Area 1 is performing contract work on 360 Apps for a variety of Corporations and Video Production Studios.
Here a few examples:
Globe with Image Gallery & 360 Video
Navigate and rotate around earth in space and select the pins to open the picture gallery. View the stunning images taken by professional photographers and be amazed by the beauty of nature in VR.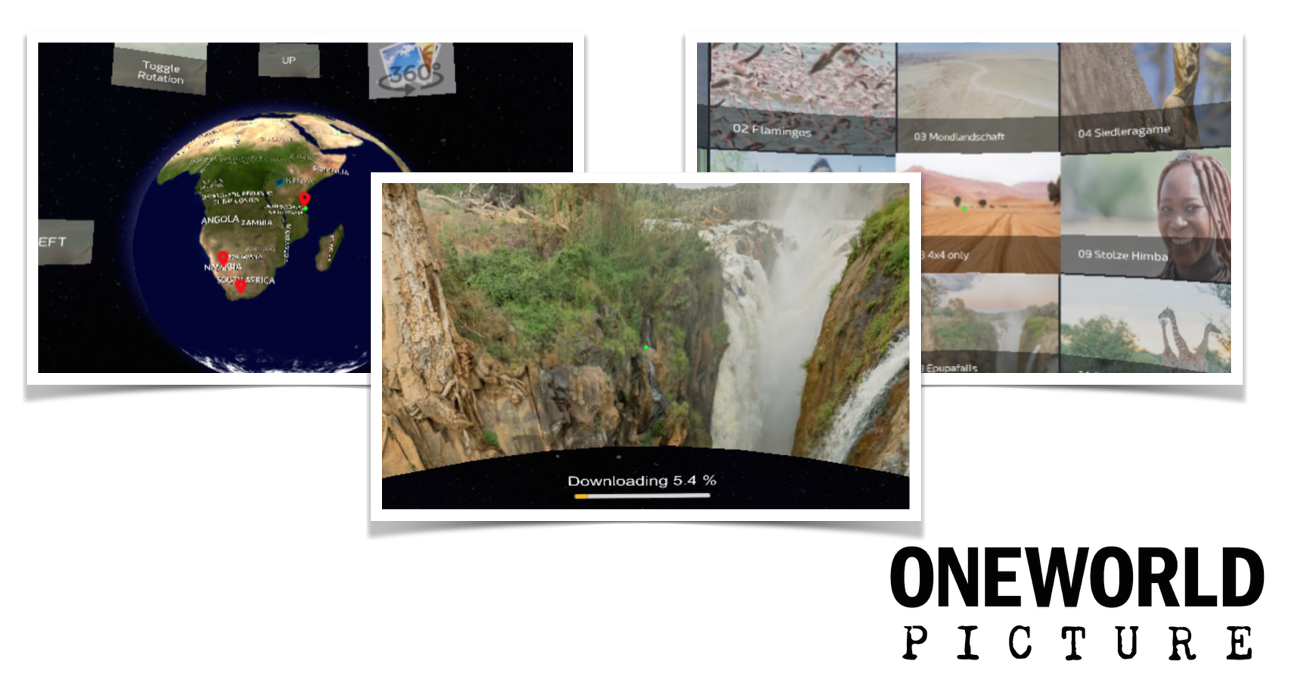 Features:
Select pins on a globe with expanding image gallery.
Select image to magnify and see the whole picture in VR.
Watch a 360 video parachute jump in Austria (after downloaded from server).
Watch the video.
360 Videos with Hotspots Walkthrough for TVN (Cardboard)
A 360 Walkthrough experience though the TVN area and offices with a personal tour guide. Navigation though the locations is realized with hotspots to gaze at with your Google Cardboard.
Travel Agency Demo London 360 Booking & Payment System (Gear VR)
A Travel Agency demo experience with 360 Videos and a Credit Card payment system. Select a flight to London and enjoy 360 videos in luxury Hotel rooms and a Bus tours around Big Ben.
Features:
Development on 360 Degree Travel Experience for WorldPay.
Virtual Reality integration in Unity 3D for Gear VR (S6 / Edge).
Design and implementation for VR UX navigation and payment demo.
Virtual Apartment Walk in VR (Gear VR)
Walk (more like teleporting) tough a Virtual apartment that was modelled in 3D. Navigate and discover all rooms in your own pace.
Features:
Walk / Teleport though a 3D modelled Apartment.
Aim at the floor and tap the Gear VR touch panel to teleport.
Discover the rooms in your own time.
Flight Sim VR Cardboard – Fly around with a Cessna
A Flight Simulator VR Demo for Cardboard in early stage development.
Features:
Switch between VR and Normal mode.
Camera view toggle with inside and outside view mode.
Real flight physics for maximum realism.
A few Teaser Trailers of early stage / prove of concept games:
Alien Mothership Attack – Teaser Trailer
Courageous VR – Ghost Busting Gameplay Teaser
Mixed Reality Game – Combine VR and AR in one Game
Control a Battle Mech with your Smartphone and/or Cardboard.
Switch between VR and Normal AR mode.
Camera view toggle with inside and outside view mode
Same world with a different perspectives in AR and VR
Further competencies:
Oculus Rift (DK1,DK2,CV1) und HTC Vive Apps Experiences & Game development
FOVE and PSVR Development Experience
Leap Motion VR / Desktop Applications
Tobii Eye Tracking Development
360 degree images and video production
VR/AR Consulting, lectures and workshops in USA, UK, India and Germany
Get your quote today!